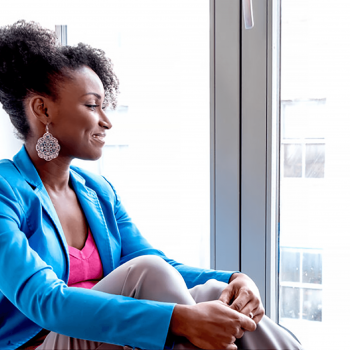 A graduate in interior design from InterDec College in Montreal, Valdyne also holds a bachelor's degree in social sciences from the University of Ottawa. She has been a certified member of the Professional Association of Quebec Designers (APDIQ) since 2011 and has also taught at LaSalle College in Montreal.
Empathy, collaboration and rigor
Enthusiastic, serious and loving a job well done, Valdyne has been able to design, working closely with its clients, functional, harmonious and innovative interiors that meet the highest demands of the residential and commercial market.
She is also the recipient of the Silver Laureate, awarded at the 14th edition of the Grand Prix du Design for the delicatessen project "African Soul Food"
At the same time, Valdyne worked in a hospital environment with accident victims and the elderly during her 8 years of study, a human experience that left her particularly sensitive to the well-being of others.

On the strength of these experiences, Valdyne Limage founded the company Omni Design par Limage ™ ️ in order to combine well-being and living spaces through interior design.
Recognition and association